4060 laser engraving machine for wood plastic
---
4060 laser engraving machine for wood plastic
Product display
1.Advertising industry: large blister word cutting, organic glass engraving and cutting, engraving of double color board,scutcheon,crystal cup, authorize brand etc.
2.Art & Craft industry: engraving on marble, bone, bamboo craft, leather, shell, ivory and so on.
3.Model industry:cutting on architectural model, aviation and navigation model, and wooden toys.
4.Packing and printing industry: engraving and cutting of printing rubber plate, and cutting of sandwich plate and die board cutting.
1.It can be used at Clothing, embroidery, cloth toys, home decoration fabrics, handbags.
2. Gloves, toys industry leather, leather cutting and surface carving. Precision cutting of non-metal sheets, such as an acrylic board.
3.Medium density decorative board, etc., in handicraft, model, advertisement, decoration, electric appliance,plastic industry.
Parameter
4060 laser engraving machine technical parameters

Model

JW-4060

working area

40cm*60cm

Laser type

CO2 sealed laser tube

Cooling type

Laser power

40W/50W/60W/80W

Engraving speed

0-60000mm/s

Cutting speed

0-35000mm/s

Power supply

220V±10% /50HZ , 110V±10%//60HZ

Min. shaping character

Letter 1.0 x 1.0mm

Graphic format supported

BMP,HPGL,JPEG,GIF,TIFF,PCX,TAG,CDR,DWG,DXF

Software supported

CorelDraw, PhotoShop, AutoCAD

Laser Output Control

1-100% software setting

Highest Scanning Precision

2500DPI

Location precision

<0.01mm

Working temperature

-5 to 65 degrees

Operating humidity

5%-95%(without condensed water)

Equipment Dimension

110*75*50cm

Net Weight

50KG

Optional parts

Up-down worktable, Red light pointer, Auto focus, Rotary device,Auto- air blowing

Warranty

3 years

Certification

FDA FCC CE ISO etc..
Many products
3020 Laser engraving cutting machine
4040 Laser engraving cutting machine
4060 Laser engraving cutting machine
6090 Laser engraving cutting machine
1610 Laser engraving cutting machine
1812 Laser engraving cutting machine
1325 Laser engraving cutting machine
Laser engraving machine for wood
Laser engraving machine for acrylic
Laser engraving machine for bamboo
Laser engraving machine for cloth
Laser engraving machine for handbags
Laser engraving machine for gloves
Laser engraving machine for toys industry leather
Laser engraving machine for leather cutting and surface carving
Laser engraving machine for medium density decorative board
Laser engraving machine for handicraft
Laser engraving machine for advertisement
Laser engraving machine for decoration
Laser engraving machine for electric appliance
Laser engraving machine for plastic industry
Product details
1.Laser engraving machine JW-4060 is suitable for various materials.
2. With the advantages of fast processing speed, high precision, less waste and high efficiency.
3.Support win7, win8, win10 computer operating system, is the best choice of traditional equipment upgrade in various industries. 4.Professional laser engraving and cutting software, specially designed and written for carving and cutting.
5.High compatibility, powerful editing function, friendly interface, easy to install and use.
Packaging and shipping
Packaging and shipping
1. We have 3 layers package. For the outside, we adopt wood craft case. In the middle, the machine is covered by foam,to protect the machine from shaking. For the inside layer, the machine is covered by thickening plastic bag for waterproof.
2. Air-Worthy Packing or Sea Packing which comply with international standard.
About us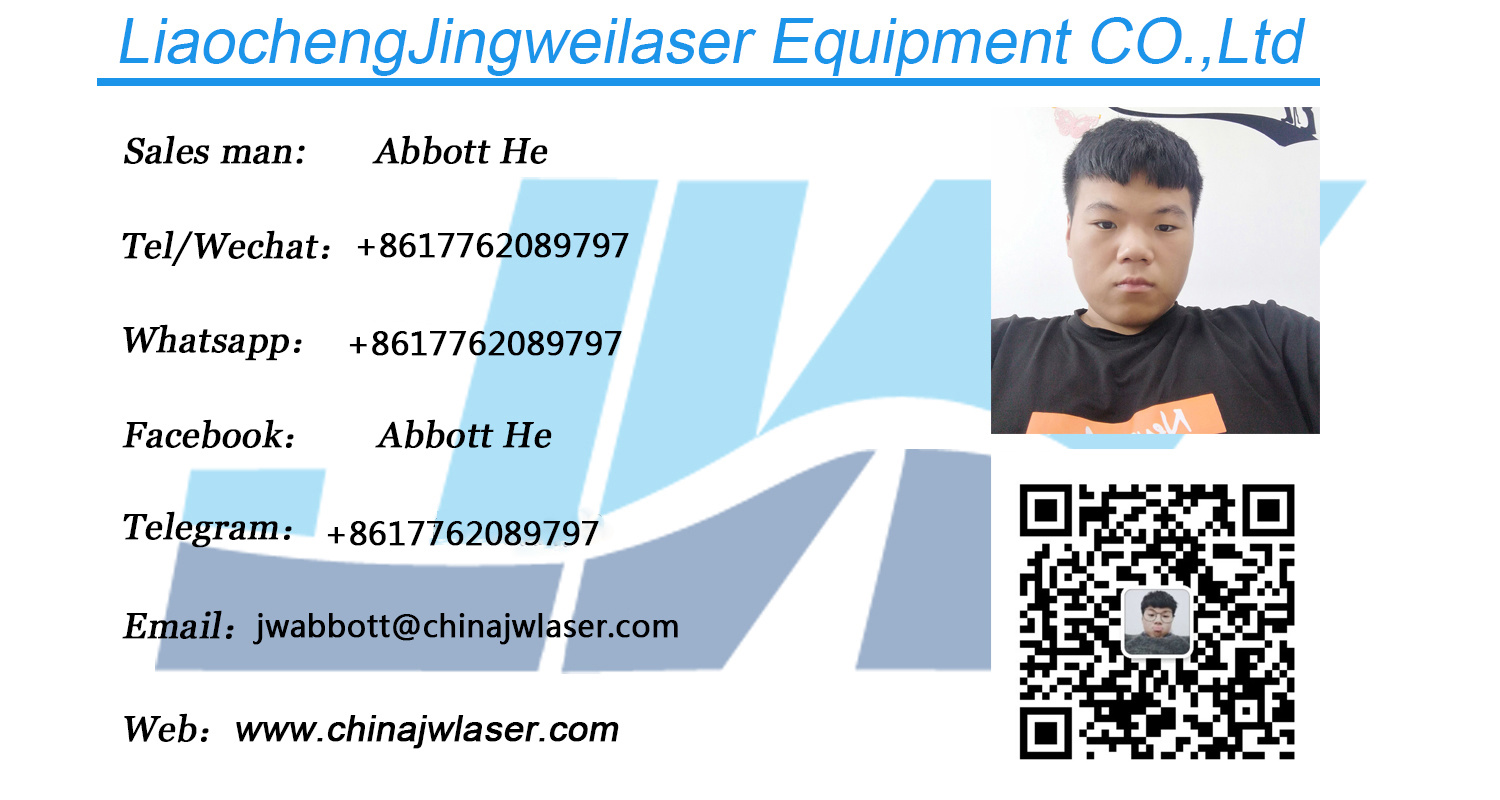 Please Send The Contact Email To
Welcome to inquire
LIAOCHENG JINGWEI LASER EQUIPMENT CO.,LTD
Address:No. 111, Baililai Kechuang Town, Intersection of Hunan Road and Xindonghuan, Liaocheng High-tech Zone, Liaocheng, Shandong, China
Whatsapp:+86-19963537926
Mob:+86-19963537926