laser Cutting Machine Laser Engraving co2 Price for leather Acrylic
---
laser Cutting Machine Laser Engraving co2 Price for leather Acrylic
1. For laser tube,we use RECI brand,very popular among customers,its lifetime is 3 times longer than common laser tubes 100000 hours.
2.Stepper motor,providing enough power,ensuring high speed of machine 57/42 type.
3.Taiwan HIWIN linear rail for transmission,to ensure high precision,faster speed,lower noise,and its lifetime is 10 times longer than common rail ways.
4.we have two kinds of worktable: Aluminum knife table for hard material like wood,acrylic,helping small cutted pieces fall off; and honeycomb worktable for soft material like leather,cloth,to keep the material as flat as possible,ensuring cutting effect.
If you work on both hard and soft material,we can make the table with double use.
5.The control system is DSP,supporting offline work. There is USB interface on the panel,so it support U disk,very convenient.
6.We use laser cut Ruida software,very popular in the market.
7.Red dot will help position the laser,protecting operator.
1. Good quality laser tube, long lifetime, more powerful, good quality laser power supply.
2. Red Light position,making locating more convenient and precise.
3. Machines with RuiDa Nano control panel can work without computer.
4. Beautiful and strong outer casing.
5. Applicable for most no-metal materials, such as acrylic, double-color sheet, MDF, leather, colth, rubber, wooden boards, bamboo products, organic glass, plastics, marble, jade, crystal, etc.
1. Laser processing can be carried out on non-metallic materials such as bamboo wood, crystal, ox horn, paper plate, organic glass, marble, cloth, leather, rubber and plastics.
2. Clothing, embroidery, cloth toys, home decoration cloth art, handbags, gloves, leather materials, leather cutting and surface carving in the toy industry.
3. Precision cutting of non-metal thin plates such as handicraft, model, advertisement, decoration, electric appliance, plastic industry, medium density decorative plate, etc.
3.Wood, paper, leather, cloth, Plexiglas, epoxy resin, density board, double-colored board, marble, plastic, rubber, ceramic tile, crystal, bamboo and other nonmetal materials.
laser engraving machine for wood
laser engraving machine for marble
laser engraving machine for acrylic
laser engraving machine for cloth
laser engraving machine for shoes
laser engraving machine for paper
laser engraving machine for glass
laser engraving machine for ad
laser engraving machine for stamp
laser engraving machine for leather
laser engraving machine for wedding card
laser engraving machine for art
laser engraving machine for plexiglass
laser engraving machine for plastic
laser engraving machine for rubber
laser engraving machine for bamboo
laser engraving machine for plywood
laser engraving machine for PVC
Laser power

50 W ,60 W ,80w,100w,

Laser tube life Span

7000-8000working/hours.

Applicable Materials

Acrylic,Glass,papper,crystal,wood,leather,cloth,rubber,marble,

ceramic,etc.except nonmetal

Working area

400*600 mm

Max moving speed

1500mm/s

Laser energy control

1-100 set by hand or software

Worktable

Electric Up and down table. Up to 25 CM

Locating precision

<0.01 mm

Min shaping character

Character: 2*2 mm,; letter: 1*12 mm

Operating temperature

5°C-35°C

Resolution ratio

<4500 dpi

Laser type

Hermetic CO2 glass tube

Power supply

AC220±10%50 HZ/AC110±10%50 HZ

System environment

WINDOWS 2000/WINDOWS XP/WIN7

Cooling way

Water cooling and protection system

Graphic format supported

The file which CorelDraw, Photoshop, AutoCAD can identify(BMP,GIF,JPGE,PCX,TGA,TIFF,PLT,CDR,DMG,

DXP,PAT,CDT,CLK,DEX,CSL,CMX,AI,WPG,WMF,EMF,CGM,SVG,SVGZ,PCT,

FMV,GEM

USER MENU

Full English and Chinese

Package Inclusion

Software,VIDEO USER MENU CD,Air pump gun,Power cables, USB cables, Water tank,Water Pipe,Smoke Vent-pipe,Air Blow Pipe ,exhaust fan,Tools bag

Protection System

Yes

Option parts

high-grade cooling system/double-head/cylinder rotary Jig/ irregular rotary Jig/ honeycomb table/ knifes table

Warranty

1 year ,

Dimensions

40-50w:1100*750*500mm 60-80w:1400*750*500mm

Dimensions(package)

1250*900*800mm

Net Weight

45KG

Gross Weight

80KG
Packaging Details:Plywood Cases
Delivery Details:3-5 working days
The advantages of Plywood Case Package:
Firstly, plywood case, its compressive strength and bearing quality is better, is the market of choice for the goods of high-weight packaging
Secondly, the board area is big, the soil structure is good,and operational process is simple,
So it is better in leakproofness and waterproof.
Thirdly , when importing the plywood case is with fumigation-free , the procedure is simple.
Liaocheng Jingwei Laser Equipment Co.,Ltd
1. Established in 2008 Liaocheng Dongcheng Jingwei equipment co., Ltd is a manufacturer and trader specialized in the research, development and production of laser engraving machine and laser marking machine.
2.We are located in Liaocheng Shandong province with convenient transportation access.
3.All of our products comply with international quality standards and are greatly appreciated in a variety of different markets throughout the world.
4.If you are interested in any of our products or would like to discuss a custom order, please feel free to contact us.
5. We are looking forward to forming successful business relationships with new clients around the world in the near future.
our experienced team of professionals
(1)We employ more than 200 professionals and invest in world-class manufacturing equipment.
(2) We not only keep up with the development trend of the world, but also have our own innovative development team, to give the best user experience to customers!
Our capability
(1)We have our own factory, the production process USES automation, the monthly supply is very stable!
(2)We can produce 1000+ laser machine machine per month and 1000 + fiber laser marking machine.
International partnerships
(1)We export our extensive range of laser engraving machine and other products around the world.
(2)Our reputation for quality and service has seen our export network spread to the USA, Japan, Europe, Australia, North America, South America, South East Asia.
Industry certification FDA,FCC,CE,ISO ,SGS
1.Pre-sales service:
A.Free sample making.For free sample making/testing, please send your samples or products CAD Graphics to our company in China. Try before you buy.
B.Progressing Solution Design.According to customer's product processing requirement, we can design the unique solution that supports higher manufacturing efficiency and better processing quality for customer.
2.After-sales service:
A.We will supply the machine with training video and user's manual in English for installing, operation, maintenance and trouble-shooting, and shall give technical guide by e-mail, fax, telephone/MSN/ICQ and so on, when you meet some problems of installation, using or adjusting.
B.You can come to our factory for training. Jingwei will offer professional guide. Direct and effective face-to-face training. Here we have assembled equipment, all sorts of tools and testing facility,we will also provide accomadation during training period.
C.If the problems cannot be solved on line our engineers also service machinery overseas.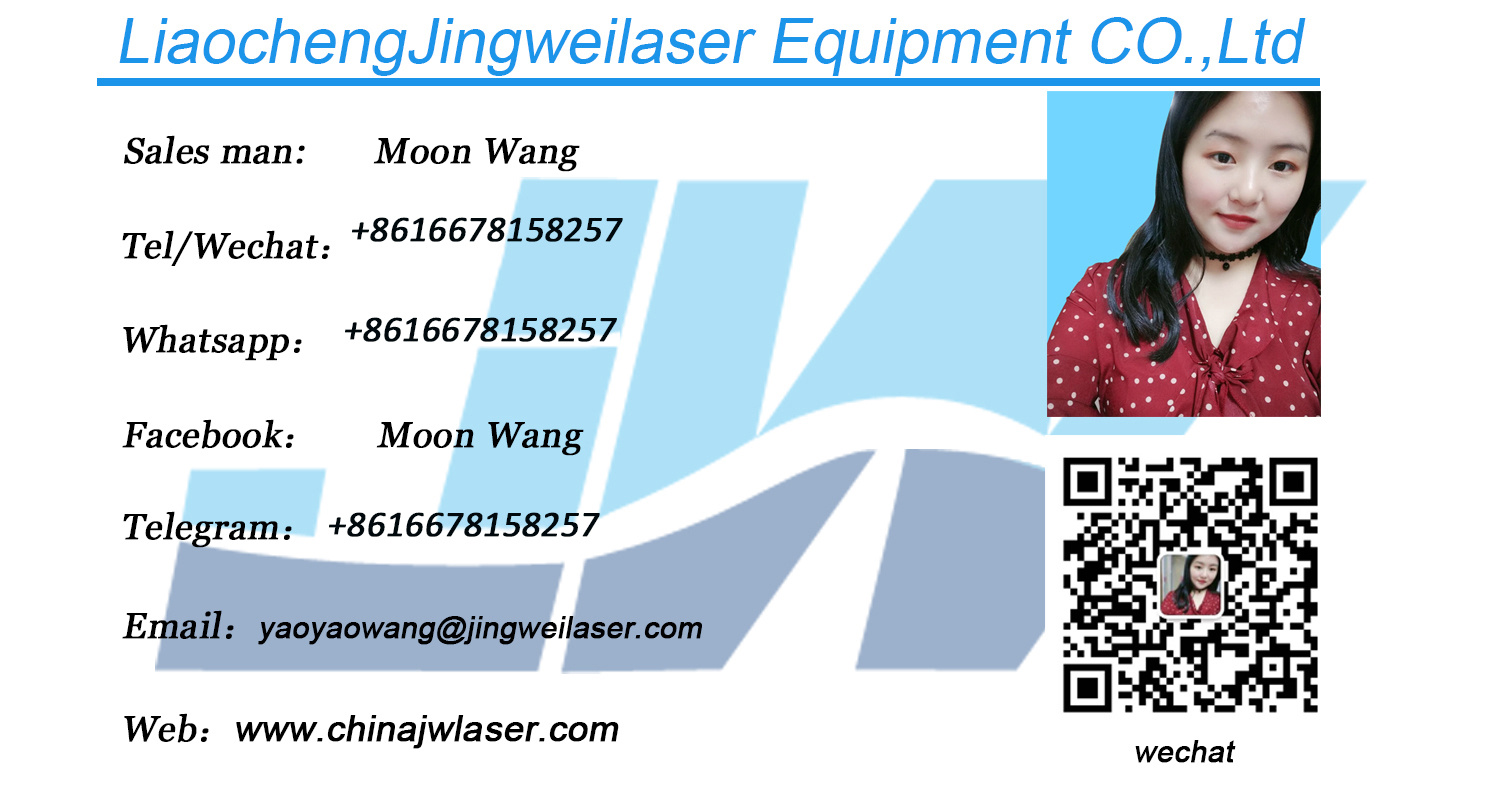 Please Send The Contact Email To
Welcome to inquire
LIAOCHENG JINGWEI LASER EQUIPMENT CO.,LTD
Address:No. 111, Baililai Kechuang Town, Intersection of Hunan Road and Xindonghuan, Liaocheng High-tech Zone, Liaocheng, Shandong, China
Whatsapp:+86-19963537926
Mob:+86-19963537926