jingwei touch screen laser marking machine
---
jingwei touch screen laser marking machine
Portable Laser Marking Engraving Machine can mark logo, character, serial number, bar code, data matrix on metals and some non-metals. It does not have consumable. It's very cost effective. It boasts fast marking speed and high marking precision. It's widely used and well accepted in prevailing international market.
Model Number

JW-F20/30

Weight

25KG

Material

Aluminum

Laser wavelength

1064nm

Laser power

20W/30w

Laser Type

Fiber laser pulsed or continuous

Marking depth

≤0. 5mm as the material may

Marking line speed

≤7000mm / s

Minimum characters

0.15mm

The minimum line width

0.02mm

Marking area

Standard 110mmX110mm

Optional 200mm*200mm

Operating Life

laser Run> 100,000 hours

working hours
100000 hours
Working area
200*200mm

Lifting heigh

lifting 50cm

Cooling system

Air cooling

Operating System

Windows

Environment

10 ° C-45 ° C, relative humidity 5%-95%

Power output

220V-50HZ(single phase) or 110V-60HZ(single phase)
1. Compass, with the unique all built-in integration design, the optical,electronic and mechanical components are highly integrated, so that the whole machine weight only 35kg. It can be called the smallest fiber laser marker in the world. In addition, it adopts imported fiber laser, and coupled with all air-cooled design, it need not external cooling devices.
2. High Durability, the laser module has a long service life (greater than 100,000 hours; while the traditional lamp pump YAG can only serve hundreds of hours and the semi-conductor can serve 20,000 hours or so) .
3. Low Consumption, due to the all air-cooled design, no consumable materials and free of maintenance, it has a low cost at use. Furthermore, it saves energy with a total power below of 0.5kw.
4. High Speed, it applies imported high-speed galvanometer scanning head, which has greatly reduced the latency and increased the marking speed, which is 3 to 10 times of the first generation of traditional lamp-pumped marker and second-generation of semiconductor marker(depend on the marking material).
samples
Both metals and some non-metals
Metals: carbon steel/mild steel, stainless steel, aluminum, copper, magnesium, zinc; rare metal and alloy steel (gold, silver, titanium, etc.); special surface treatment (aluminum anodized, plating surface, surface oxygen breaking of aluminum and magnesium alloy) Non-metals: plastics, rubber, resin, carton box, etc.
Packaging Details:metal box
Delivery Details:3-5working days
The advantages of Plywood Case Package:
Firstly, plywood case, its compressive strength and bearing quality is better, is the market of choice for the goods of high-weight packaging
Secondly, the board area is big, the soil structure is good,and operational process is simple,So it is better in leakproofness and waterproof.
Thirdly , when importing the plywood case is with fumigation-free , the procedure is simple.
1.Pre-sales service
A.Free sample making.For free sample making/testing, please send your samples or products CAD Graphics to our company in China. Try before you buy.
B.Progressing Solution Design.According to customer's product processing requirement, we can design the unique solution that supports higher manufacturing efficiency and better processing quality for customer.
2.After-sales service:
A.We will supply the machine with training video and user's manual in English for installing, operation, maintenance and trouble-shooting, and shall give technical guide by e-mail, fax, telephone/MSN/ICQ and so on, when you meet some problems of installation, using or adjusting.
B.You can come to our factory for training. Jingwei will offer professional guide. Direct and effective face-to-face training. Here we have assembled equipment, all sorts of tools and testing facility,we will also provide accomadation during training period.
C.If the problems cannot be solved on line our engineers also service machinery overseas.
1. It was established in 2010. With years' development, now we grow up to be a professional factory which owns the complete system of manufacturing, sales and service integration.
2. We are specializing in manufacturing laser engraving & cutting machine, desktop laser stamp engraving machine, fiber laser marking machine, laser tube, liner guide seat, laser heads, working platform for laser machine, and engraving and cutting machines under outstanding quality.
3. Jingwei laser has been successfully improved the OEM services for the key parts or complete machines to many overseas distributors and agents.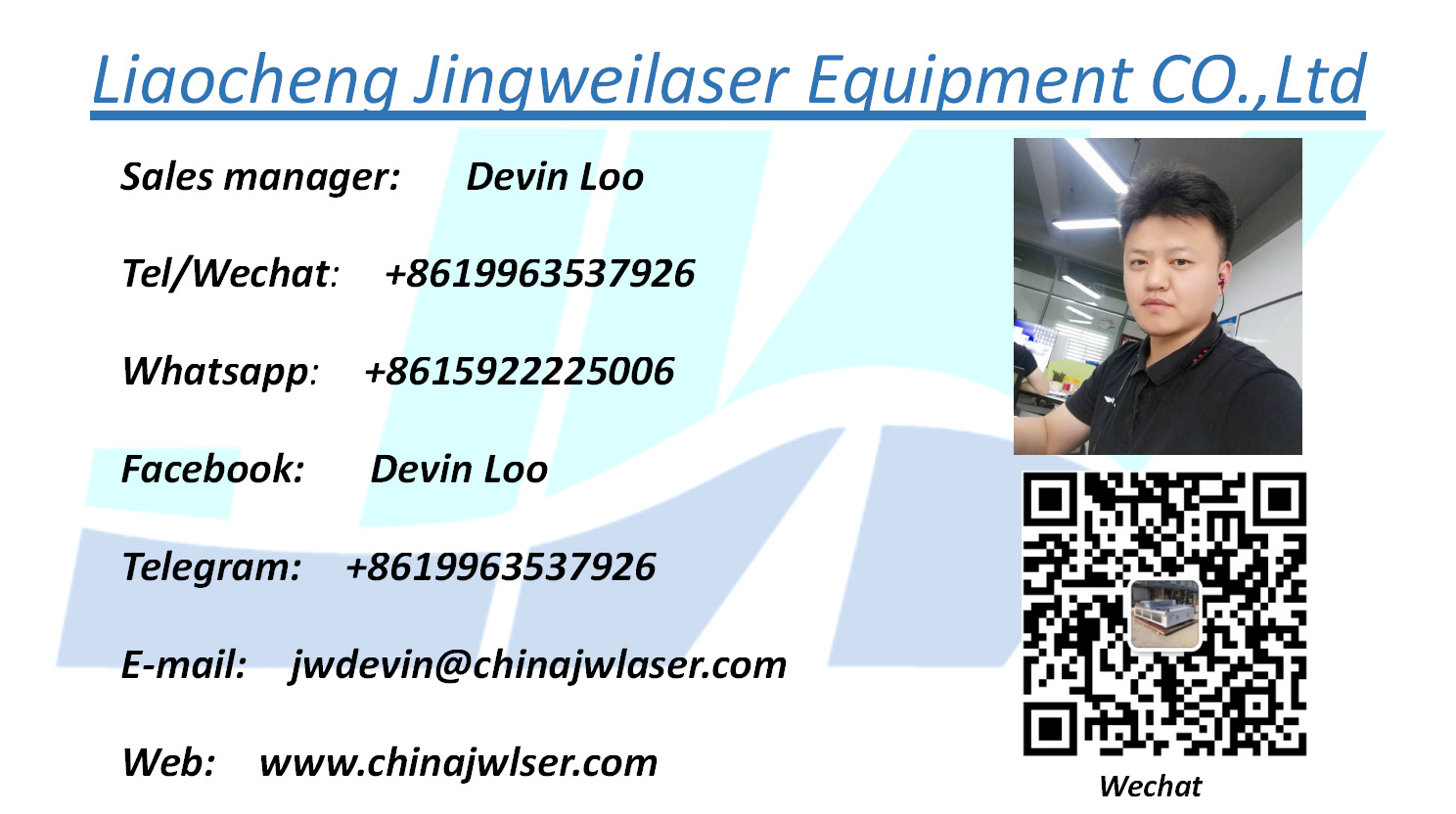 Please Send The Contact Email To
Welcome to inquire
LIAOCHENG JINGWEI LASER EQUIPMENT CO.,LTD
Address:No. 111, Baililai Kechuang Town, Intersection of Hunan Road and Xindonghuan, Liaocheng High-tech Zone, Liaocheng, Shandong, China
Whatsapp:+86-19963537926
Mob:+86-19963537926