JW- gray 6090 laser engraving machine
---
Application field and effect picture display:
1.Clothing, embroidery, cloth toys, home decoration fabrics, handbags, gloves, toys industry leather, leather cutting and surface carving.
2.Precision cutting of non-metal sheets, such as acrylic board, medium density decorative board, etc., in handicraft, model, advertisement, decoration, electric appliance, plastic industry.
Details of the parameters:
Model

JW-6090

working area

600*900mm

Laser type

CO2 sealed laser tube

Cooling type

Laser power

60w/80w/100w/130w/150w

Function

non-metallic cutting and engraving

0-75000mm/min

Cutting speed

0-40000mm/min

Power supply

220V±10% /50HZ

Min. shaping character

Letter 1.0 x 1.0mm

Graphic format supported

BMP,HPGL,JPEG,GIF,TIFF,PCX,TAG,CDR,DWG,DXF

Software supported

CorelDraw, PhotoShop, AutoCAD

Laser Output Control

1-100% software setting

Highest Scanning Precision

4000DPI

Location precision

Working temperature

-5 to 65 degrees

Operating humidity

5%-95%(without condensed water)

Equipment Dimension

1535*1324*1285mm

Optional parts

Up-down worktable, Red light pointer, Auto focus, Rotary device,Auto- air blowing

260KG

CNC or Not

Yes

Laser tube

CO2 Glass Sealed

Warranty

1 year

Certification

FDA FCC CE ISO etc..Packing and delivery
Packing and delivery:
1.Hard - packed film to prevent machine scratches.
2.Packing and shipping in standard export wooden cases.
About Company:
1. One year Warranty. During the warranty, we will provide you new machine parts forreplacing free of charge.(excepting the consumables, such as Lens and Reflectors)
2. 24 hours' Online Technical Service. You can get technical support by Email/Skype/Telephone(Our qualified engineers will help you to solve any problem in time when problem happened.)
3. Easy operation. Working videos, operation manual of the machine are both available.
4. Quality control.Skilled and strict Quality Inspection Team is available during the material purchasing and production procedure
Our service:
1. One year Warranty. During the warranty, we will provide you new machine parts forreplacing free of charge.(excepting the consumables, such as Lens and Reflectors)
2. 24 hours' Online Technical Service. You can get technical support byEmail/Skype/Telephone(Our qualified engineers will help you to solve any problem in time when problem happened.)
3. Easy operation. Working videos, operation manual of the machine are both available.
4. Quality control.Skilled and strict Quality Inspection Team is available during the material purchasing and production procedure
Your inquiry is welcome: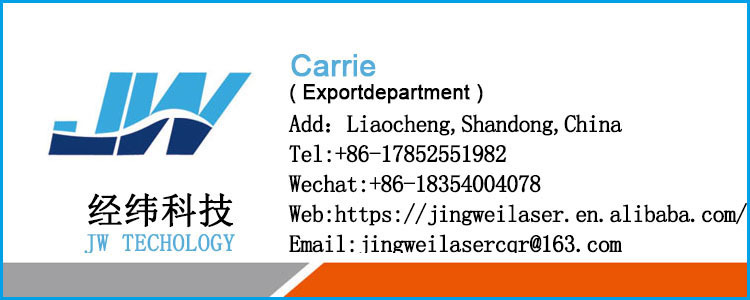 Please Send The Contact Email To
Welcome to inquire
LIAOCHENG JINGWEI LASER EQUIPMENT CO.,LTD
Address:No. 111, Baililai Kechuang Town, Intersection of Hunan Road and Xindonghuan, Liaocheng High-tech Zone, Liaocheng, Shandong, China
Whatsapp:+86-19963537926
Mob:+86-19963537926