Introduction to the main application fields of engraving machine  
---
雕刻机主要应用领域介绍 
Introduction to the main application fields of engraving machine  
1、牌匾、标志、标牌    日新月异的城市公共设施建设、街道的翻新改造、现代化的住宅小区、宾馆酒店、写字楼,对符合国际标准的标识和导向系统产生了大量的需求,其中雕刻制作的牌匾、标志、标牌就占据了相当大的一部分, 为了树立良好的企业形象和完善的内部管理,有实力的企业也纷纷将公司的牌匾换成雕刻的,以雕刻的形式制作胸牌、科室牌更早已成为了时尚潮流。
Signs, signs and signs are changing with each passing day in the construction of urban public facilities, Street renovation and transformation, modern residential quarters, hotels and office buildings. There is a great demand for the sign and guidance system that meets international standards. Among them, carved signs, signs and signs occupy a considerable proportion. In order to establish a good corporate image and improve internal management, powerful enterprises have also replaced the company's plaque with carved ones. Making chest cards and department cards in the form of carving has become a fashion trend.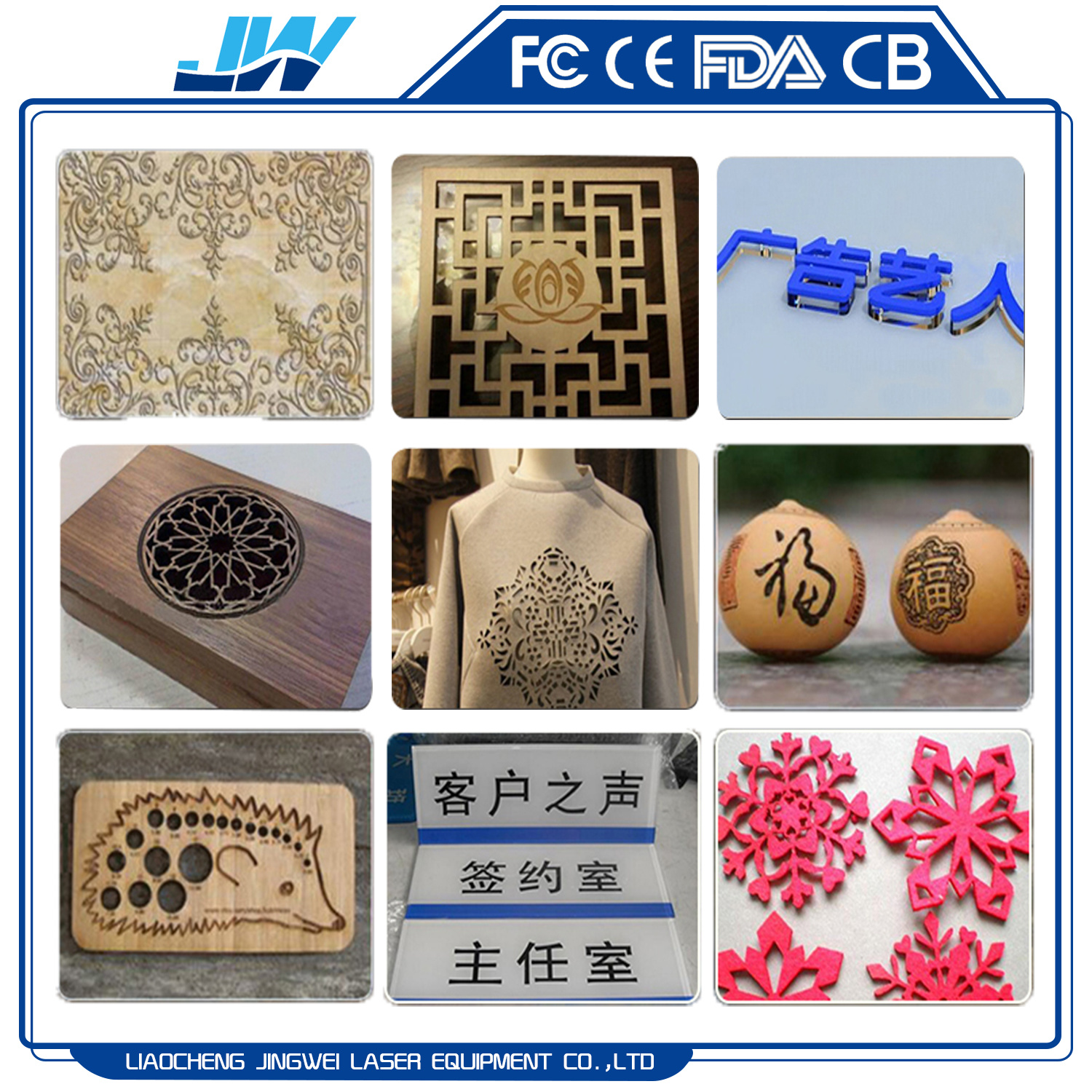 2、建筑模型、机械模型、车辆模型、舰船模型    模型是最古老的设计工具,现代社会又给模型赋予了更加新颖的含义和更加广泛的用途,可以毫不夸张地说,模型是工业的模特。机械、车辆、舰船、建筑设计方案的表现和展示、商品房屋的销售都离不开模型,模型本身还有独立的竞赛、纪念和收藏等活动和意义。目前,使模型制作更加精美、更加快速的雕刻机已经成为各行各业制作模型的最佳帮手。
Building model, mechanical model, vehicle model and ship model are the oldest design tools. Modern society has given the model a more novel meaning and a wider range of uses. It can be said without exaggeration that the model is an industrial model. Models are indispensable to the performance and display of machinery, vehicles, ships, architectural design schemes and the sale of commercial houses. Models themselves have independent competitions, commemorations and collections. At present, the engraving machine which makes the model making more exquisite and faster has become the best assistant in all walks of life.
3.工艺美术、礼品、纪念品    越来越多的会议、旅游活动中的奖牌、证书、纪念品和广告宣传品,流行采用雕刻来制作。在钢笔、皮具、餐具、打火机、手表、启瓶器、钥匙链、奖杯、奖盘、仿水晶摆件、高尔夫球杆、猎枪、戒指等物品上进行雕刻,可以体现品位和个性,对书签、粉盒、挂坠、镜框、银器等物品施以富于情趣的雕刻,则迎合了人们对情感交流的需要.
Arts and crafts, gifts, souvenirs, more and more meetings, medals, certificates, souvenirs and advertising materials in tourism activities, popular use of sculpture to produce. Carving on pens, leather goods, tableware, lighters, watches, bottle openers, key chains, trophies, prize plates, imitation crystal pendants, golf clubs, hunting rifles, rings and other items can reflect taste and personality. Carving on bookmarks, powder boxes, pendants, mirror frames, silver and other items with interest caters to the situation. People's need for emotional communication.    
4、工业加工    中国的建筑材料的产量已经位居世界第一位,当前正向提高质量、完善花色品种的方向快速发展。雕刻机可以方便快捷地为石膏天花板和陶瓷面砖、地砖等建筑装饰材料制造出大量精美的模具,从而令使用这种模具加工出来的装饰材料产品身价倍增。在制造业发达的国家中,零件表面打标、仪器仪表盘的制作、企业标准化管理所必需的各种指示牌、标识牌、工号牌、生产流程图的制作等大多是通过雕刻机完成的,据国外的调查统计,在德国、瑞士等西欧发达的工业国家,有2/3的雕刻机是在工厂里作为机床使用的。
Industrial processing China's production of building materials has ranked the first in the world. At present, it is developing rapidly in the direction of improving quality and improving varieties of designs and colors. The engraving machine can easily and quickly produce a large number of exquisite moulds for gypsum ceilings, ceramic tiles, floor tiles and other building decorative materials, thus doubling the price of the decorative materials products processed with this kind of moulds. In the developed countries of manufacturing industry, the marking of parts surface, the manufacture of instrument panel, the production of various indicators, labels, work numbers and production flow charts necessary for standardized management of enterprises are mostly completed by carving machines. According to foreign surveys and statistics, in Germany, Switzerland and other developed industrial countries in Western Europe, Two-thirds of the engraving machines are used as machine tools in factories.
5、有机玻璃工艺、有机玻璃加工    有机玻璃是最理想的雕刻材料之一,无论采用雕刻机的"切"、"铣"、"雕"、"刻"、"钻"五大工艺的哪一种加工方法,有机玻璃都有极好的可加工性,而有机玻璃一直是试验器具、模型、POP广告摆件、小装饰品、艺术灯具、工艺礼品、纪念品等的理想材料,雕刻机与有机玻璃这种好工具和好材料的亲密结合,必然会产生繁花似锦的各种优秀产品。
The process of plexiglass and the processing of plexiglass are one of the most ideal carving materials. Regardless of the five processing methods of cutting, milling, carving, carving and drilling of the engraving machine, plexiglass has excellent machinability, and plexiglass has always been a test tool. Ideal materials, such as models, POP advertising ornaments, small decorations, art lamps, craft gifts, souvenirs, etc., will inevitably produce various excellent products with flourishing flowers when carving machines are closely combined with organic glass, a good tool and material. 
 6、木器工艺、木器装饰、家具加工    雕刻机可以使放样、打孔、开槽、镂边等木器工艺和家具加工实现数字化,在提高产品的重复性、标准化程度的同时,使加工的成品率和生产效率得到显著的提升。
Wood craft, wood decoration, furniture processing and carving machine can digitize the lofting, punching, grooving and edge-cutting of wood craft and furniture processing, and improve the repeatability and standardization of products, at the same time, the finished product rate and production efficiency of processing are significantly improved.    
7、印刷雕版    雕刻木版和雕刻胶版仍然是一些特定领域不可替代的印刷技术,机械雕刻机可以胜任雕刻木版制作的绝大部分工作量,机械雕刻胶版不象激光雕刻那样有有害废气产生,在提倡绿色环保、关心珍爱生命的进步的时代背景下,机械雕刻才是值得提倡的现代化胶版雕刻手段。
Printing engraving, engraving and offset engraving are still irreplaceable printing technologies in some specific fields. Machine engraving machines can be competent for most of the workload of wood engraving. Machine engraving offset engraving, unlike laser engraving, does not produce harmful exhaust gas. It is advocating green environmental protection and caring for the progress of cherishing life. Under the background of the times, mechanical engraving is a modern offset engraving method worth advocating.    
 8、吸塑模具    吸塑灯箱和雕刻牌匾一样,都是对刻绘透光彩和喷绘灯箱牌匾的更新换代产品。制作字体和图案模具是吸塑灯箱制作工艺流程当中的十分重要的一个环节,雕刻机同样也是这个工艺环节中的得力工具。采用吸塑工艺,也是加工蓬勃发展中的各种家居工艺、艺术灯具和礼品、家用电器的外壳等的重要方法,在这些方面,雕刻机都大有用武之地。 
Like carved plaques, plastic-absorbing light boxes are renewal products of carved transparent and spray-painted light boxes. Making fonts and pattern moulds is a very important part of the manufacturing process of suction lamp box. The engraving machine is also a powerful tool in this process. It is also an important method to process various household crafts, artistic lamps and gifts, household appliances shell and so on in the vigorous development. In these aspects, engraving machines are of great use.
下面简单介绍几种激光雕刻的工艺礼品:
Following is a brief introduction of several laser carving craft gifts:
1. 竹签工艺品    激光雕刻的竹签工艺品能展示各时代时期书法艺术风格、流派的演变,具有无与伦比的欣赏和收藏价值,是馈赠高朋的上好礼品。激光雕刻的《孙子兵法》、名人手迹等竹签工艺品,制作工艺十分精美,一时成了文人骚客、商贾政要爱不释手的收藏品。
  Bamboo stick handicraft laser carved bamboo stick handicraft can show the evolution of calligraphy art style and genre in different times. It has unparalleled appreciation and collection value and is a good gift for friends. The bamboo handicraft, such as Sun Tzu's Art of War and celebrity handwriting, carved by laser, is exquisitely crafted and has become a collection loved by literati, poets, businessmen and politicians.  
 2、笔筒、名片盒    激光雕刻的各式笔筒、名片盒,尽显个性特色,已成为文人、政、商界要人爱不释手的案头用品。   
Pen holders, business card boxes, laser carved pen holders and business card boxes show their individual characteristics, and have become the favorite desk articles of literati, politicians and business leaders. To be careful 
2.木版雕刻   通过激光雕刻机将各种经文、名人原迹图、影像等等再现在各种材质的木板上,实逼真,栩栩如生。
Through laser engraving machine, various texts, celebrity traces, images and so on are reproduced on various materials of wooden boards, realistic and lifelike.   
雕刻切割材料    可在竹木、水晶、牛角、纸版、有机玻璃、大理石、布料、皮革、橡胶、塑料等非金属材料上进行激光加工。
Carving and cutting materials can be laser processed on bamboo, crystal, horn, paper plate, plexiglass, marble, cloth, leather, rubber, plastic and other non-metallic materials.   
3.适用行业 Applicable industries
广告行业:有机玻璃切割、标牌雕刻、双色板雕刻、水晶雕刻等。 
Advertising industry: plexiglass cutting, sign carving, dichroic board carving, crystal carving, etc.
礼品行业:在木质、竹片、大理石、双色板、密度板、水晶、皮革等材料上雕刻精美文字及图案 Gift industry: Wood, bamboo, marble, dichroic board, density board, crystal, leather and other materials carved exquisite characters and patterns.
纸箱印刷业:雕刻制品,用于雕刻胶皮板、双层板、塑料板的雕刻和切割。
Carton printing industry: carved products, used for carving rubber sheet, double-deck board, plastic board carving and cutting
皮革及服装加工业:可在真皮、合成革、人造革、布料上进行复杂文字和图形的雕刻、切割、雕花、镂空、电脑绣花裁剪等工艺加工。
  Leather and garment processing industry: It can carve, cut, carve, hollow out and cut computer embroidery on leather, synthetic leather, artificial leather and cloth.
To be careful
其它行业:模型制作、装饰装潢、产品包装的雕刻等。
Other industries: model making, decoration and decoration, sculpture of product packaging, etc
激光雕刻机还能根据用户的不同需求,在所有非金属制品上进行雕刻,包括水晶、玻璃等以及不平整的或者有凹凸面的材料。
Laser engraving machine can also engrave on all non-metallic products, including crystals, glass and uneven or convex materials, according to different needs of users.
也正是激光雕刻机广泛的应用领域,特别是介入工艺礼品行业,因此已成为投资热点.
It is also the extensive application field of laser engraving machine, especially in the industry of craft gifts, so it has become a hot spot of investment.
jingweilaser
Please Send The Contact Email To
Welcome to inquire
LIAOCHENG JINGWEI LASER EQUIPMENT CO.,LTD
Address:No. 111, Baililai Kechuang Town, Intersection of Hunan Road and Xindonghuan, Liaocheng High-tech Zone, Liaocheng, Shandong, China
Whatsapp:+86-19963537926
Mob:+86-19963537926