1325 fiber laser cutting machine for plastic industry acrylic
---
1325 Co2 laser cutting machine large plastic industry acrylic from Shandong
1.Adopt the internationally advanced DSP control technology, it is the pioneer to fast continuously curving-cut and shortcut processing pathway optimizing function, accordingly efficiency.
2. It automatically equalize the diminishing of light during the whole the same cutting effecting different area. High-speed cutting control software and in high-speed movement can improve production efficiency.
3. The up-to-date software provides the direct output of original pictures, completely fit the graph requirements of the end users. The advanced colors and the turns of the cutting, can realize the one-time output completely or partially.
4. It is the first domestic product that uses USB port to transmit data, equipped with large-capacity internal memory, improving working speed and efficiency greatly.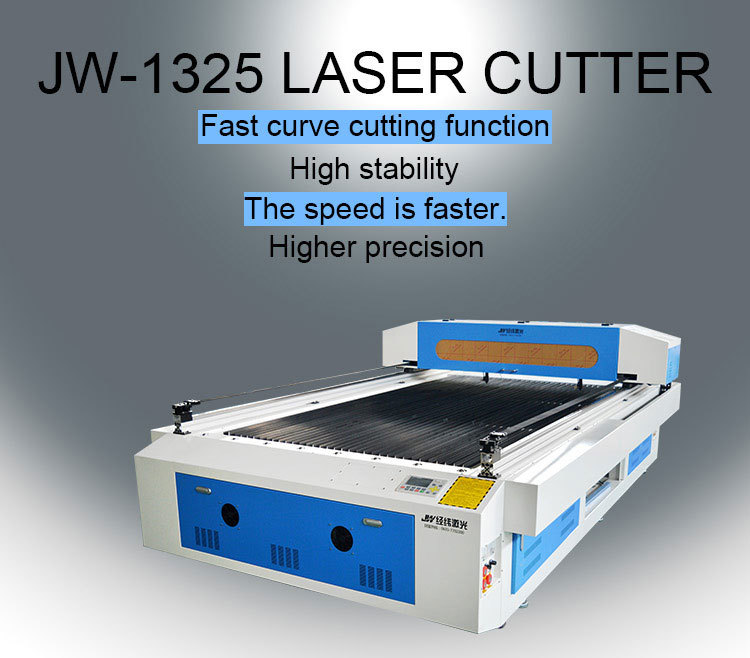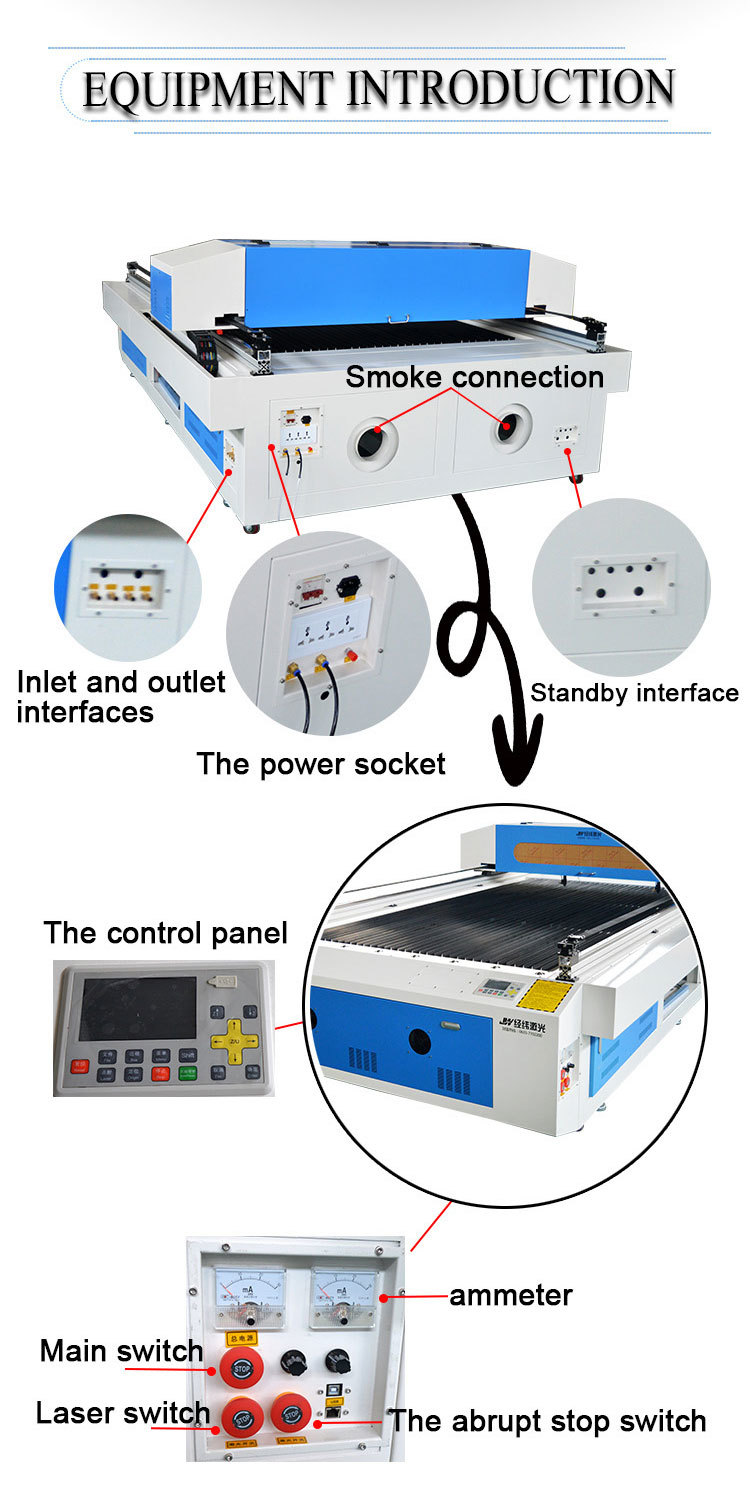 JW1325 marble laser engraver is our company newest design for engraving on the marble,tombstone,granite,it is reasonable.Humanity design make the products sells well,the up parts on the top of the marble and working,it is avoid you put the heavy marble on the working table.
USB interface,U disk plug and direct reading,offline / online,dual guide rails,stepper driver,belt transmission,channel-type feeding,lifting platform,honeycomb platform,blade platform,circulating water cooling,hydraulic protection,smoke and dust remove system,air blowing protection,special software supports the output of file format such as PLT,BMP,DXF,DST,T100 etc..
1) Working Area:1300*2500mm,this can be customized as your requirements.
2) Laser power:60w 80w 100w 150w 180w 300w,working hours:8000-10000 hours.
3) control system - with only a few buttons very easy to use.
4) Knife worktable - suitable for hard materials such as wood,acrylic,you also can choose honey comb table use for soft materials such as leather,fabric etc.
5) High resolution laser head.-good quality and long lifetime.
6) Water pump-used for cooling laser tube to protect it has long life.
7) Air pump-cooling the laser head to avoid the materials being burned.
8) co2 Laser Engraving Machine with FDA,CE Certificate etc.
1.Advertising industry: large blister word cutting, organic glass engraving and cutting, engraving of double color board,scutcheon,crystal cup, authorize brand etc.
2.Leather and clothing industry: complex text and graphic engraving on leather,synthetic leather,
leatheroid,cloth,fur and leather.Craft processing like cutting,carving patterns or designs on woodwork,
hollowing out.Cutting of clothes,underware,home decoration,gloves,bags,shoes,hats,toys and other industries.
3.Art & Craft industry: engraving on marble, bone, bamboo craft, leather, shell, ivory and so on.
4.Model industry:cutting on architectural model, aviation and navigation model, and wooden toys.
5.Packing and printing industry: engraving and cutting of printing rubber plate, and cutting of sandwich plate and die board cutting.
6.Decoration industry: engraving and cutting on electric products and relevant materials.
7.The product labeling industry:Equipment nameplate,Anti-counterfeit marking ect.
8.Other industry: marble, granite, glass, crystal other decorative materials, carved markers, paper cutting, greeting cards other paper craft cutting.

Liaocheng Dongchangfu jingwei Equipment Co., Ltd. which located in Liaocheng City,Shandong Province, China. It was established in 2010. With years' development,now we grow up to be a professional factory which owns the complete system of R&D,manufacturing, sales and service integration. We are now specializing in manufacturing laser engraving & cutting machine, desktop laser stamp engraving machine, fiber laser marking machine,laser tube, liner guide seat, laser heads, working platform for laser machine, and WD series engraving and cutting machines under outstanding quality. Now, Jingwei laser has been successfully improved the OEM services for the key parts or complete machines to many of our overseas distributors and agents
Free accessories:Software ,manual, book, cd videos, USBcontrol
1.Pre-sales service
A. Free sample making
For free sample making/testing, please send your samples or products CAD Graphics to our company in China. Try before you buy.
B. Progressing Solution Design
According to customer's product processing requirement, we can design the unique solution that supports higher manufacturing efficiency and better processing quality for customer.
2.After-sales service:
Training to install(3 options):
A. We will supply the machine with training video and user's manual in English for installing, operation, maintenance and trouble-shooting, and shall give technical guide by e-mail, fax, telephone/MSN/ICQ and so on, when you meet some problems of installation, using or adjusting.
B. You can come to our factory for training. Jingwei will offer professional guide. Direct and effective face-to-face training. Here we have assembled equipment, all sorts of tools and testing facility,we will also provide accomadation during training period.
C.If the problems cannot be solved on line our engineers also service machinery overseas.
Every machine is packed with great care and tough material. It is packed with cling films first and then film bags. At last, it is packed with wooden case which is reinforced with the iron bar on the top and bottom With this kind machine, all our laser machine can protect well during long trip by sea or by train.We can transport machine by boat or by training, according to your requirement.
Best Regards
Allen
International trade departments
WhatsApp:+8615954946664
Wechat:+8615954946664
e-mail:jwlaserallen@163.com
Please Send The Contact Email To
Welcome to inquire
LIAOCHENG JINGWEI LASER EQUIPMENT CO.,LTD
Address:No. 111, Baililai Kechuang Town, Intersection of Hunan Road and Xindonghuan, Liaocheng High-tech Zone, Liaocheng, Shandong, China
Whatsapp:+86-19963537926
Mob:+86-19963537926