JW-1530 laser cutting machine for stainless plate
---
High quality 1530 fiber laser cutting machine for stainless steel
Product presentation
1.High performance is transmitted through optical fiber,enabling equal quality cutting at any point.
2.High efficiency cutting speed is about twice as fast as CO2 laser cutting speed.
3.Low gas consumption laser cutting will not produce any gas,there is a special cutting process for steel plate.
4.Low energy consumption,environmental protection and energy saving,the product consumption is very low,compared with CO2 laser machine can reduce 20-30%.
5.Maintenance-free fiber transmission,no reflector lens,saves a lot of time in light path adjustment.
1530 fiber laser cutting machine technical parameters

Model

1530 fiber laser engraving machine

working area

1500*3000mm

Laser type

Fiber laser

Cooling type

Water-cooling

Laser power

300w/500w/800w/1000w/1500w

Control Software

Cypcut or Ncstudio

CNC or Not

Yes

Cutting Thickness

1-10mm

Cutting Speed

1-120m/min

Working Table

Sawtooth

Position Type

Red pointer

Voltage

220V

Auxiliary Gas

oxygen,nitrogen,air

Working life of fiber module

More than 100000 hours

Fiber laser cutting head

made in Germany

Servo motor and drive

made in Japan

XY planetary reducer

made in Japan

N.W

2.5 tons

Warranty

3 years

Certification

FDA FCC CE ISO etc..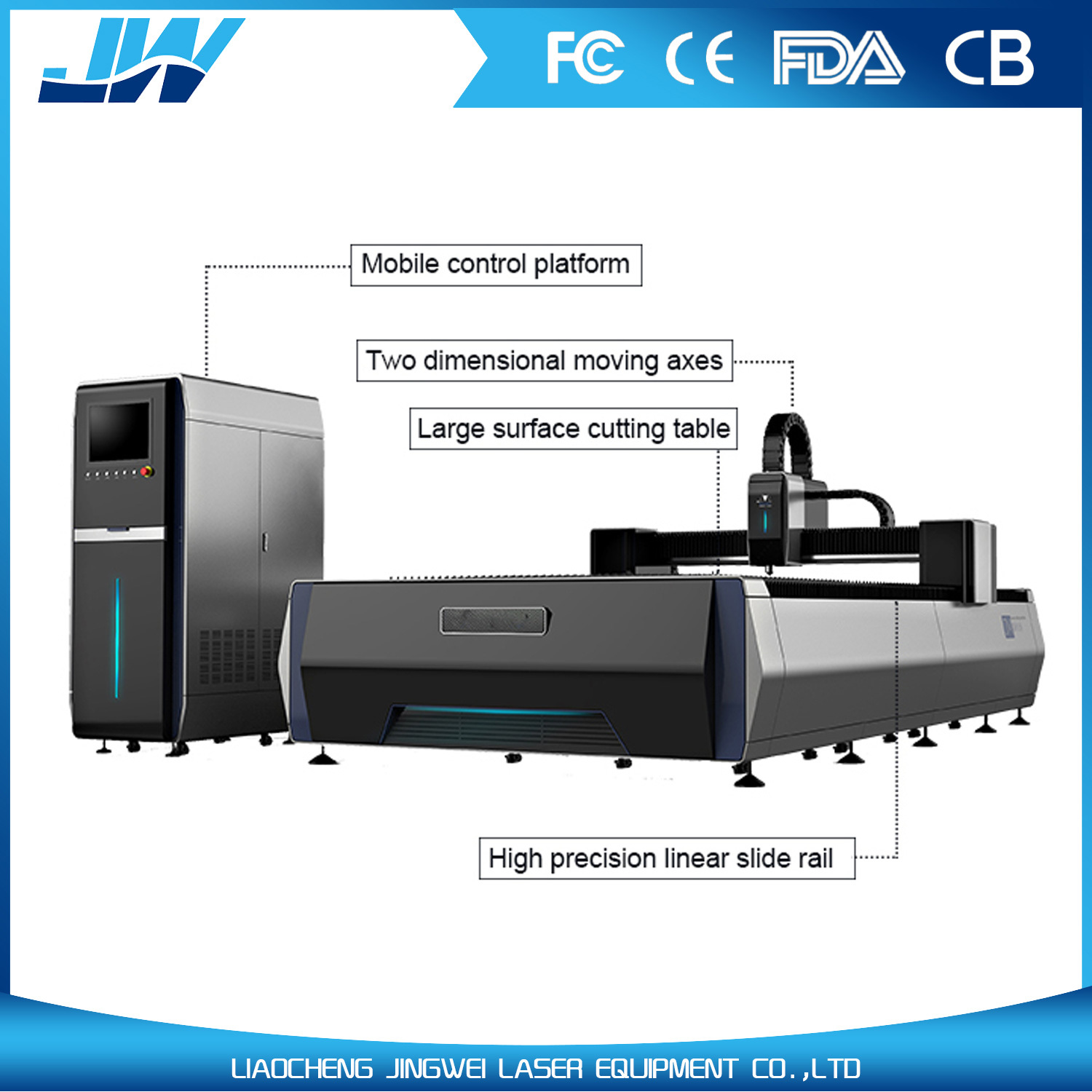 Product Application
Ordinary carbon steel plate/stainless steel plate/iron plate/aluminum plate/copper plate/galvanized plate/aluminum and zinc coated plate/cold rolled plate/silicon steel plate/alloy plate,etc

Dear Madam or Sir,
I am Allen from Liaocheng Jingwei Laser Equipment Co., Ltd.
About us –Liaocheng Jingwei Laser Equipment Co., Ltd
Established in 2008, Liaocheng Jingwei Laser Equipment Co., Ltd is a professional manufacturer and exporter that is concerned with the design development production of laser engraving machine and laser marking machine.
Note: Color and appearance can be customized according to your preferences, we try our best to meet your needs!
If you want to know or buy the above products, please contact me. Thank you.
Best Regards
Allen
International trade departments
WhatsApp:+8615954946664
Wechat:+8615954946664
e-mail:jwlaserallen@163.com
Please Send The Contact Email To
Welcome to inquire
LIAOCHENG JINGWEI LASER EQUIPMENT CO.,LTD
Address:No. 111, Baililai Kechuang Town, Intersection of Hunan Road and Xindonghuan, Liaocheng High-tech Zone, Liaocheng, Shandong, China
Whatsapp:+86-19963537926
Mob:+86-19963537926