Jingwei 100W 200W Laser Rust Cleaning Removal Machine for metal Oxide
---
Jingwei 100W 200W Laser Rust Cleaning Removal Machine for metal Oxide
Machine introduction:
Laser cleaning Machine is a new generation of industrial surface cleaning laser system. It adopts the advanced laser source, laser optical scanners and control system to meet the requirements of metal surface cleaning process.
Main features:
1.Non-contact cleaning, no damage to workpiece
2.Precision positioning, selective cleaning, desired cleaning area can be applied to the workpiece
3.No need chemical detergent, no consumable. Safe & environment-friendly.
4.Easy to operate ,Either portable or equipped with robot for automatic cleaning.
5.High cleaning efficiency, time-saving.
6.Stable laser cleaning system, free maintenance.
Product features:
1.High energy pulsed laser focusing on the surface of object to simulate plasma, continuous irradiation of high-energy plasma instantaneous formation and expansion,resulting in a series of tiny explosions, formating plasma blasting, finally achieve the relativel smooth corrosive layer of boject surface to physical blasting burst, and move through the high speed laser spot to form a plume that will clean the debris to complete the cleaning. Mainly used in metal rust.
2.High energy pulsed laser socusing on the surface of object,dirty rust and other irregular structure and dark surface absorpt the laser energy and plasma energy formated by metal surface, is instantaneous vaporization from the base metal. Mainly used in the mold cleaning and cultural relics repair and other industries.
3.For the paint and the surface of the chemical coating and special process, based on the surface and the base material has different absorption and damage threshold on laser, laser destruct the surface coating after focusing, after air contact, there are a series of complex photochemical reactions, oxidation, The final reaction product is in the form of gas discharge, the special mode of the laser below the master batch damage threshold, can peel off the coating, do not hurt the base material. Mainly used for paint removal and coating stripping
Product parameters:
Application
Jingwei provides surface preparation technology that's both efficient and remarkably versatile for a growing list of industrial applications. Whether the surface is metallic, plastic, ceramics, glass, stone or concrete, the results speak for themselves.1) Metal surface derusting
2)

Surface paint removal paint treatment
3)

Surface without dirt, stains, dirt cleaning
4)

Surface coating, coating removal
5)

Oxide surface,Oil stain and contaminant cleaning
6)

Welding surface / spray surface pretreatment
7)

Stone figure surface dust & attachment cleaning.
8)

Rubber/ plastic/ metal mold residue cleaning
1.Pre-sales service
A.Free sample making.For free sample making/testing, please send your samples or products CAD Graphics to our company in China. Try before you buy.
B.Progressing Solution Design.According to customer's product processing requirement, we can design the unique solution that supports higher manufacturing efficiency and better processing quality for customer.
2.After-sales service:
A.We will supply the machine with training video and user's manual in English for installing, operation, maintenance and trouble-shooting, and shall give technical guide by e-mail, fax, telephone/MSN/ICQ and so on, when you meet some problems of installation, using or adjusting.
B.You can come to our factory for training. Jingwei will offer professional guide. Direct and effective face-to-face training. Here we have assembled equipment, all sorts of tools and testing facility,we will also provide accomadation during training period.
C.If the problems cannot be solved on line our engineers also service machinery overseas.
1. It was established in 2010. With years' development, now we grow up to be a professional factory which owns the complete system of manufacturing, sales and service integration.
2. We are specializing in manufacturing laser engraving & cutting machine, desktop laser stamp engraving machine, fiber laser marking machine, laser tube, liner guide seat, laser heads, working platform for laser machine, and engraving and cutting machines under outstanding quality.
3. Jingwei laser has been successfully improved the OEM services for the key parts or complete machines to many overseas distributors and agents.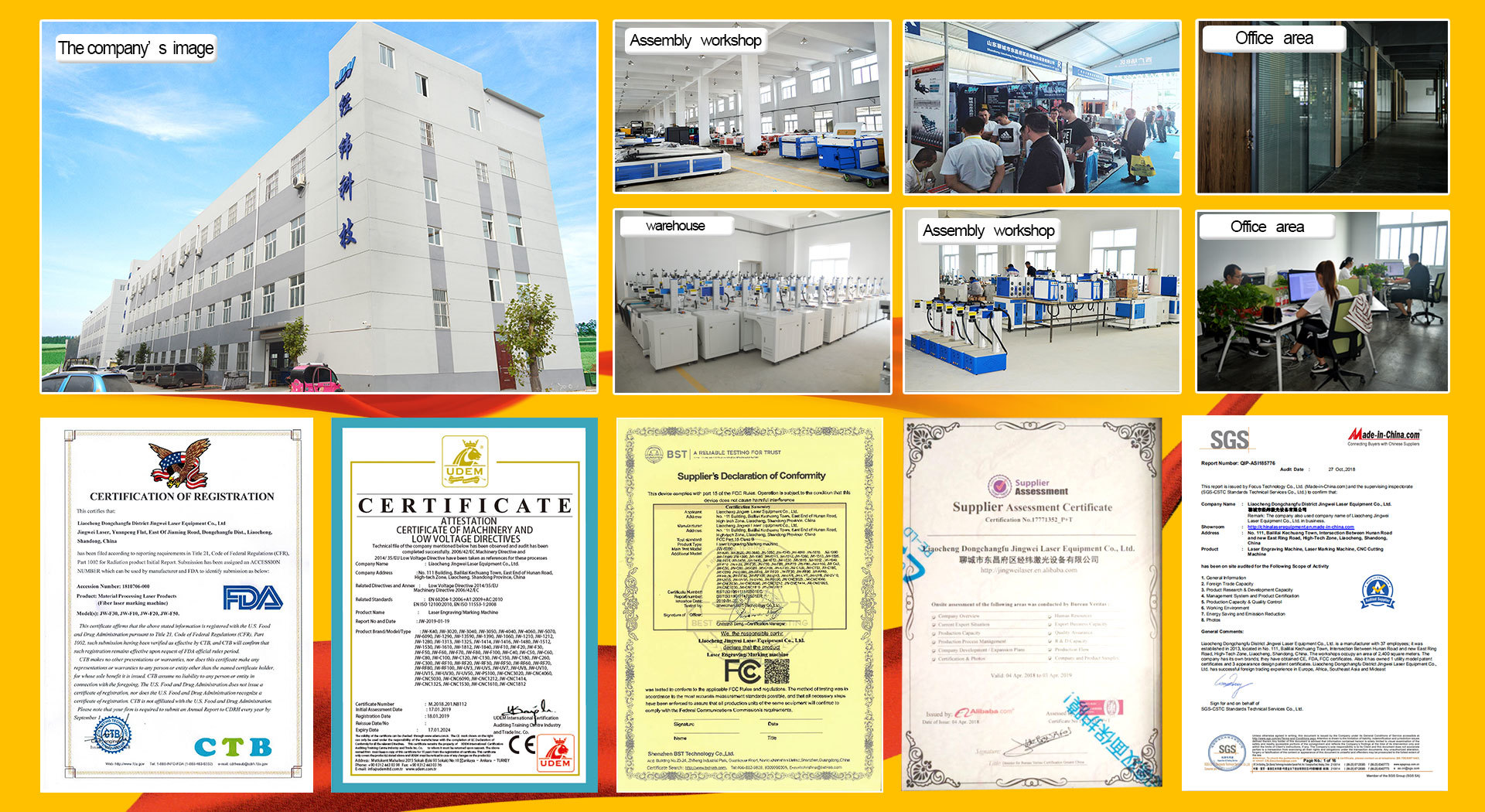 1.Every machine is packed with great care and tough material. It is packed with cling films first and then film bags.
2. At last, it is packed with wooden case which is reinforced with the iron bar on the top and bottom With this kind machine, all our laser machine can protect well during long trip by sea or by train.
Please Send The Contact Email To
Welcome to inquire
LIAOCHENG JINGWEI LASER EQUIPMENT CO.,LTD
Address:No. 111, Baililai Kechuang Town, Intersection of Hunan Road and Xindonghuan, Liaocheng High-tech Zone, Liaocheng, Shandong, China
Whatsapp:+86-19963537926
Mob:+86-19963537926