jingwei portable laser cleanning machine
---
Portable laser cleaning machine for the metal paint
Structural Layout:
Dimensions of the head of the Backpack Laser Cleaning Machine(unit: mm)
Dimensions of the cabinet of the Backpack Laser Cleaning Machine (unit: mm)
Backpack Laser Cleaning Machine Application diagram :
Operating Steps
1-Power Supply
Connect the Backpack Laser Cleaning Machine with 220V AC power.
2-Startup Steps
1,Release the red Emergency Stop Switch;
2,Press the switch button to start the machine, the startup will succeed once the button indicator turns green.
3,Control board setting parameters
1,Graphic length:Max 68mm
2,Graphic width:Max 3.0mm
3,Galvanometer speed:Fastest Speed 32
4,Laser frequency:25KHz-200KHz
5,Field Lens selection:160mm(default),254mm,330mm
6,Graphics speed:1-12
7,Laser Power:5%-100%
8,Mode setting: After setted the parameters, click the sequence
number next to the mode. Enter the mode save interface, click Save, then
click Read . This machine can be setted 10 modes.
4-Turn On the Ted Light for Preview
1,Open the protection cover of the laser cleaning head;
2,Click on the red button on the touch screen , the hand-held the
laser cleaning head indicate red light.
5-Cleaning Operation
1,Turn off the control board "Red Light";
2,Turn on the control board "laser";
3,Press the "handle laser button";
4,After used , press the "Handle Laser Button" again.
Applications:
Our compamy:
1. It was established in 2010. With years' development, now we grow up to be a professional factory which owns the complete system of manufacturing, sales and service integration.
2. We are specializing in manufacturing laser engraving & cutting machine, desktop laser stamp engraving machine, fiber laser marking machine, laser tube, liner guide seat, laser heads, working platform for laser machine, and engraving and cutting machines under outstanding quality.
3. Jingwei laser has been successfully improved the OEM services for the key parts or complete machines to many overseas distributors and agents.
Our service:
1.Pre-sales service
A.Free sample making.For free sample making/testing, please send your samples or products CAD Graphics to our company in China. Try before you buy.
B.Progressing Solution Design.According to customer's product processing requirement, we can design the unique solution that supports higher manufacturing efficiency and better processing quality for customer.
FAQ:
Q1:Which model should I choose?
A: It depends on your demands..
Q2:Which laser power should I choose?
A: This depends on the materials and max cutting/engraving/marking thickness.
Q3:The means of transportation ?
A:By DHL/TNT/UPS/Fed EX/By express/By sea
Q4:Terms of payment :
1.By T/T 2.Western Union 3.Paypal 4.One touch etc.
Q5:How often should I clean lens?
A:It depends on the materials you proces.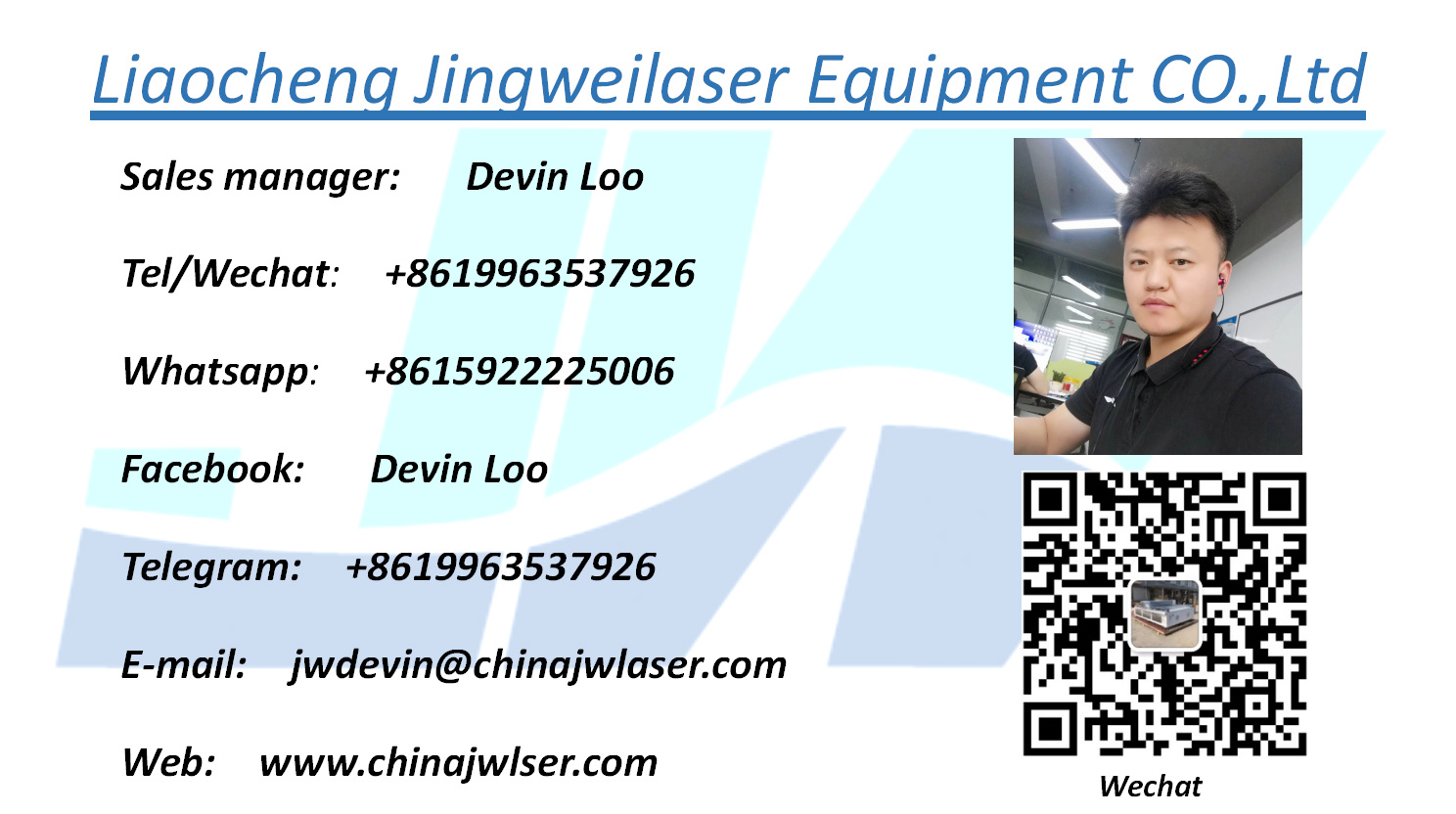 Please Send The Contact Email To
Welcome to inquire
LIAOCHENG JINGWEI LASER EQUIPMENT CO.,LTD
Address:No. 111, Baililai Kechuang Town, Intersection of Hunan Road and Xindonghuan, Liaocheng High-tech Zone, Liaocheng, Shandong, China
Whatsapp:+86-19963537926
Mob:+86-19963537926