Difference between Fiber and UV Laser Marking Machine
---
光纤激光打标机和紫外激光打标的区别
Difference between Fiber and UV Laser Marking Machine
激光打标机机由于打印效果美观、字体清晰不容易被擦掉的特点,被广泛应用于各行业,但是许多用户发现,光纤激光打标机和紫外激光打标机标价差异巨大,而且工作使用范围也差异很大。虽然都属于激光打标机,但是光纤激光打标机和紫外激光打标机的激光发生器不同,其配置的标价差异也非常的大,光纤激光打标机一般使用20瓦,30瓦,50瓦以及更高的激光发生器。
Laser marking machine is widely used in various industries because of its beautiful printing effect and clear font, which is not easy to erase. However, many users find that the price difference between optical fiber laser marking machine and ultraviolet laser marking machine is huge, and the scope of work and use is also very different. Although they all belong to laser marking machine, the laser generator of optical fiber laser marking machine and ultraviolet laser marking machine are different, and the price difference of their configuration is very big. The optical fiber laser marking machine generally uses 20w, 30w, 50w and higher laser generator.
而紫外激光打标机一般使用的是3瓦,5瓦以及10瓦的激光发生器居多,因此光纤激光打标机和紫外激光打标机标价差异的根本原因就在于激光发生器的配置和工作原理不同。今年来,激光打标机使用越来越广泛,再加上激光机不使用耗材基本上是一次性投入,在使用的过程中维护也极少,降低了配件更换成本;随着环保风的刮起,环保问题也越来越受重视,也是更多厂家开始选择激光的原因
Ultraviolet laser marking machines generally use 3, 5 and 10 watt laser generators, so the fundamental reason for the price difference between optical fiber laser marking machine and ultraviolet laser marking machine lies in the different configuration and working principle of laser generator. This year, laser marking machine is more and more widely used, and laser machine does not use consumables is basically a one-time investment, in the use of the process of maintenance is very little, reducing the replacement cost of accessories; with the wind of environmental protection, environmental protection issues are becoming more and more important, which is also the reason why more manufacturers began to choose laser.
在激光机行业中,按低中高来划分,常用机型可用这三种激光打标机来作为代表机型,低端的是半导体激光雕刻机,中端的也是现在流行的光纤激光打标机,而相对上档次的就是紫外激光打标机了。此机型之所以称为档次,一是它的应用非常广泛,标刻出来的效果是其它机型无法做到的,一般用它来打标的产品也是比较有档次的,比如:苹果手机,IPAD等。另一个原因就是一个字"贵"。的确,但是作为有档次设备,它所用的激光配件-激光器,从格比其它机型要高出许多
In the laser industry, according to the low, medium and high, the three types of laser marking machines can be used as representative models. The low end is the semiconductor laser engraving machine, and the middle end is the popular optical fiber laser marking machine, while the relative upper grade is the ultraviolet laser marking machine. The reason why this model is called grade is that it is widely used. The effect of marking is beyond the reach of other models. Generally, the products marked with it are also of grade, such as: Apple mobile phone, IPAD and so on. Another reason is the word "expensive". Yes, but as a high-grade equipment, it uses laser parts - lasers, which are much higher than other models.
现在就说说紫外激光打标机吧!紫外激光打标机中的激光器具有其它激光器所不具备的好处,即能够阻断热应力。这是因为大多数紫外激光系统在低功率状 态下运行。通过使用有时被称为"冷消融"的工艺,紫外激光器的光束会产生一个缩小的热影响区,制造电路板中的应用非它莫属。      紫外激光打标机的紫外激光器的光束会产生一个缩小的热影响区,可以将冲缘加工、碳化以及其它热应力的影响降至很低,而使用更高功率的激光器通常都会存在这些负面影响。另外,在波长方面,成都林仕根据多年的激光打标机应用经验,认为紫外激光器的波长比可见光波长更短,因此肉眼是不可见的,在对于使用中对人体的影响也更小。虽然你无法看到这些激光束,但就是这些短波让紫外激光器能够更准确地聚焦,从而在产生精细的电路特性的同时,还能保持优良的定位精度
Now let's talk about the ultraviolet laser marker. The laser in the ultraviolet laser marker has the advantage that other lasers do not have, that is, it can block the thermal stress. This is because most ultraviolet laser systems operate at low power. By using a process sometimes referred to as "cold ablation", ultraviolet laser beams can produce a narrowed heat-affected zone, which can be used in the manufacture of circuit boards. Ultraviolet laser beam of ultraviolet laser marker will produce a narrow heat-affected zone, which can reduce the impact of punching edge processing, carbonization and other thermal stresses to a very low level. Usually, the use of higher power lasers will have these negative effects. In addition, in terms of wavelength, Chengdu Lin Shi, based on years of experience in the application of laser marking machine, believes that the wavelength of ultraviolet laser is shorter than that of visible light, so it is invisible to the naked eye and has less impact on the human body in use. Although you can't see these laser beams, it's these short waves that enable ultraviolet lasers to focus more accurately, thus producing fine circuit characteristics while maintaining good positioning accuracy.
还有一个重要因素,工件温度较低外,紫外线中存在的高能光子让紫外激光得以应用于大型PCB电路板组合,从FR4等标准材料到高频陶瓷复合材料以及包括聚酰亚胺在内的柔性PCB材料等各种材料都适用。三种常见的PCB材料在六种不同激光器作用下的吸收率。成都林仕常用的这六种激光器中包括准分子激光器(波长为248 nm),红外激光器(波长为1064 nm),和两种CO2激光器(波长分别为9.4μm和10.6μm)。紫外激光器,波长为355nm)是一种罕见的在三种材料中吸收率一致的激光器。
Another important factor is that besides the lower temperature of the workpiece, the high-energy photons in ultraviolet light make it possible for ultraviolet laser to be used in large PCB circuit board combinations, ranging from standard materials such as FR4 to high-frequency ceramic composites and flexible PCB materials including polyimide. Absorption of three common PCB materials under six different lasers. Among the six lasers commonly used by Lin Shi in Chengdu, excimer lasers (wavelength 248 nm), infrared lasers (wavelength 1064 nm), and two kinds of CO2 lasers (wavelength 9.4 and 10.6 um, respectively). Ultraviolet laser, with a wavelength of 355 nm, is a rare laser with uniform absorption in three materials.     
紫外激光打标机应用于树脂和铜时显示了极高的吸收率,在加工玻璃时也有着适当的吸收率。只有价钱昂贵的准分子激光器(波长248nm)在加工这些主要材料时才能够更好的完整吸收率。这一材料的差异性使得紫外激光器成为了很多工业领域中各种PCB材料应用的不二选择,从生产很基本的电路板,电路布线,到生产袖珍型嵌入式芯片等档次工艺都通用,所以价钱也是比光纤激光打标机高 出很多。
Ultraviolet laser marking machine shows very high absorptivity when applied to resin and copper, and also has appropriate absorptivity when processing glass. Only expensive excimer lasers (wavelength 248 nm) can achieve better complete absorption when processing these main materials. Because of the difference of this material, ultraviolet laser has become the best choice for PCB materials in many industrial fields. From the production of basic circuit boards, circuit wiring to the production of pocket embedded chips and other grade processes are universal, so the price is much higher than that of optical fiber laser marking machine.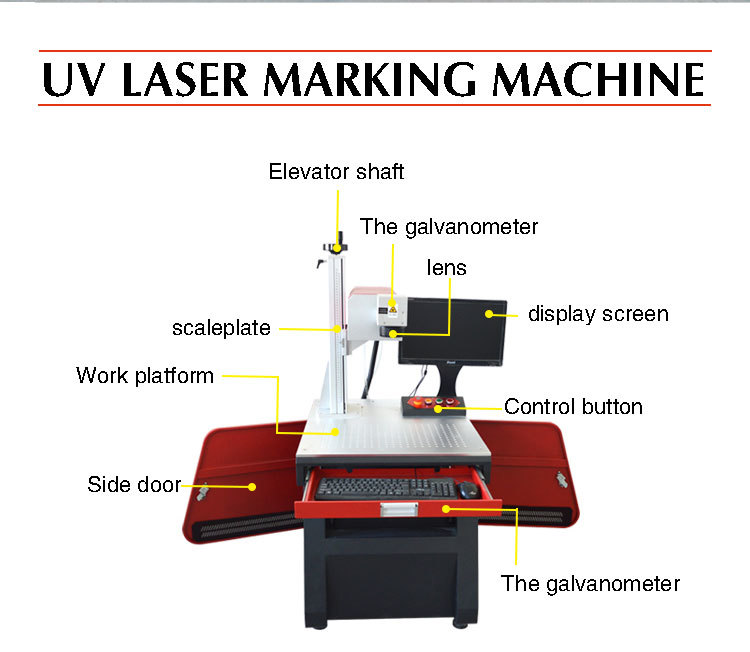 Please Send The Contact Email To
Welcome to inquire
LIAOCHENG JINGWEI LASER EQUIPMENT CO.,LTD
Address:No. 111, Baililai Kechuang Town, Intersection of Hunan Road and Xindonghuan, Liaocheng High-tech Zone, Liaocheng, Shandong, China
Whatsapp:+86-19963537926
Mob:+86-19963537926