4060 laser engraving cutting machine for plastic wood
---
4060 laser engraving cutting machine for plastic wood
1. Imported linear guide rail and high speed stepping motor and driver to make the cutting edge smooth and uncorrugated;
2. Adopt integrated frame structure design to make the machine run steadily without noise;
3. Simple operation, optional carving sequence, processing level, flexible adjustment of laser power, speed and focal length for local or all one-time output;
4. Open software interface, compatible with Autocad, Coreldraw, wentai sculpture, Photoshop and other vector graphics design software;
5. Equipped with water break protector, better protect laser, extend the life of laser, optional foot pedal switch, make your operation more convenient and fast.
6. Exquisite design; Super strength steel plate, industrial grade; Effectively guarantee the smooth operation and service life of the equipment;
7. Double guide rail operation; Belt drive; You can choose to configur
honeycomb/grid/flat/lift;
8. Patented technology: unique up-down and down-draft smoke and dust removal system; Blowing protection; Carve cutting materials.
1. Handicraft industry:carved exquisite patterns andwords on materials such as wood,bamboo,lvory,bone,leather and marble
2. It is mainly used for large blister word cutting,double-color plate carving,organic glass carving cutting,sign carving,crystal,authorization card carving,ect.
3.Leather garment processing industtry:leather,syntheticleather,artificialleather,cloth and fur are processed by complex text and grephics carving,cutting and carving hollowing
4.Model industry:making sand table building models
1. Good quality laser tube, long lifetime, more powerful, good quality laser power supply.
2. Red Light position,making locating more convenient and precise.
3. Machines with RuiDa Nano control panel can work without computer.
4. Beautiful and strong outer casing.
5. Applicable for most no-metal materials, such as acrylic, double-color sheet, MDF, leather, colth, rubber, wooden boards, bamboo products, organic glass, plastics, marble, jade, crystal, etc.
4060 laser engraving machine technical parameters

Model

JW-4060

working area

40cm*60cm

Laser type

CO2 sealed laser tube

Cooling type

Water-cooling and protect system

Laser power

40W/50W/60W/80W

Engraving speed

0-60000mm/s

Cutting speed

0-35000mm/s

Power supply

220V±10% /50HZ , 110V±10%//60HZ

Min. shaping character

Letter 1.0 x 1.0mm

Graphic format supported

BMP,HPGL,JPEG,GIF,TIFF,PCX,TAG,CDR,DWG,DXF

Software supported

CorelDraw, PhotoShop, AutoCAD

Laser Output Control

1-100% software setting

Highest Scanning Precision

2500DPI

Location precision

<0.01mm

Working temperature

-5 to 65 degrees

Operating humidity

5%-95%(without condensed water)

Equipment Dimension

102*80*60cm

Net Weight

75KG

Optional parts

Up-down worktable, Red light pointer, Auto focus, Rotary device,Auto- air blowing

worktable

motorized up-down worktable




function

both engraving and cutting




Working Table

Honeycomb or knife type

CNC or Not

Yes

Warranty

1years

Certification

FDA FCC CE ISO etc..
Main products
3020 Laser engraving cutting machine
4040 Laser engraving cutting machine
4060 Laser engraving cutting machine
6090 Laser engraving cutting machine
1610 Laser engraving cutting machine
1812 Laser engraving cutting machine
1325 Laser engraving cutting machine

Laser engraving machine for wood
Laser engraving machine for acrylic
Laser engraving machine for bamboo
Laser engraving machine for cloth
Laser engraving machine for handbags
Laser engraving machine for gloves
Laser engraving machine for toys industry leather
Laser engraving machine for leather cutting and surface carving
Laser engraving machine for medium density decorative board
Laser engraving machine for handicraft
Laser engraving machine for advertisement
Laser engraving machine for decoration
Laser engraving machine for electric appliance
Laser engraving machine for plastic industry
Liaocheng Jingwei Laser Equipment Co.,Ltd
1. Established in 2008 Liaocheng Dongcheng Jingwei equipment co., Ltd is a manufacturer and trader specialized in the research, development and production of laser engraving machine and laser marking machine.
2.We are located in Liaocheng Shandong province with convenient transportation access.
3.All of our products comply with international quality standards and are greatly appreciated in a variety of different markets throughout the world.
4.If you are interested in any of our products or would like to discuss a custom order, please feel free to contact us.
5. We are looking forward to forming successful business relationships with new clients around the world in the near future.
our experienced team of professionals
(1)We employ more than 200 professionals and invest in world-class manufacturing equipment.
(2) We not only keep up with the development trend of the world, but also have our own innovative development team, to give the best user experience to customers!
Our capability
(1)We have our own factory, the production process USES automation, the monthly supply is very stable!
(2)We can produce 1000+ laser machine machine per month and 1000 + fiber laser marking machine.
International partnerships
(1)We export our extensive range of laser engraving machine and other products around the world.
(2)Our reputation for quality and service has seen our export network spread to the USA, Japan, Europe, Australia, North America, South America, South East Asia.
Industry certification FDA,FCC,CE,ISO ,SGS
Packaging Details:Plywood Cases
Delivery Details:5-7 working days
The advantages of Plywood Case Package:
Firstly, plywood case, its compressive strength and bearing quality is better, is the
market of choice for the goods of high-weight packaging
Secondly, the board area is big, the soil structure is good,and operational process is simple,
So it is better in leakproofness and waterproof.
Thirdly , when importing the plywood case is with fumigation-free , the procedure is simple.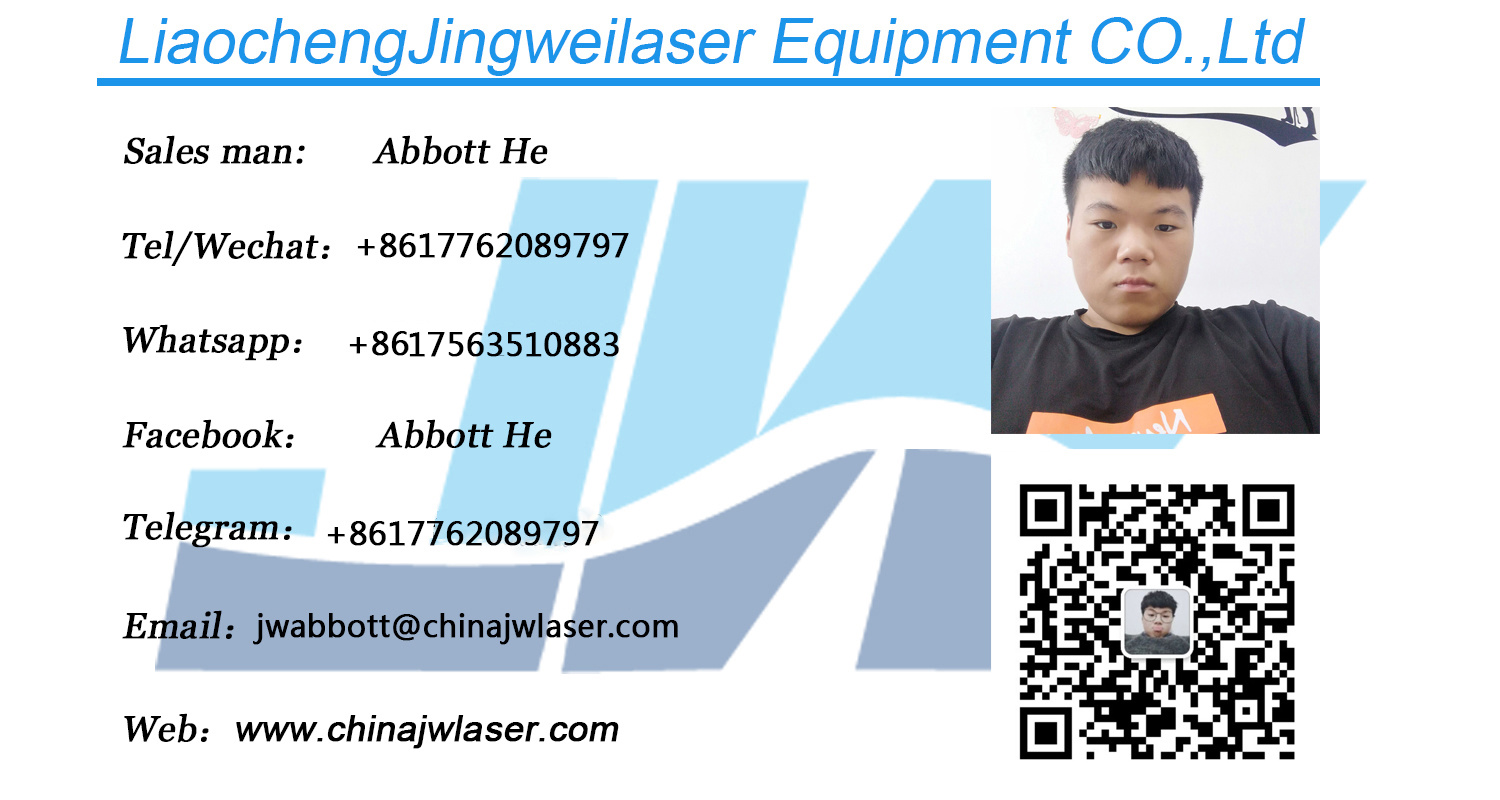 Please Send The Contact Email To
Welcome to inquire
LIAOCHENG JINGWEI LASER EQUIPMENT CO.,LTD
Address:No. 111, Baililai Kechuang Town, Intersection of Hunan Road and Xindonghuan, Liaocheng High-tech Zone, Liaocheng, Shandong, China
Whatsapp:+86-19963537926
Mob:+86-19963537926